---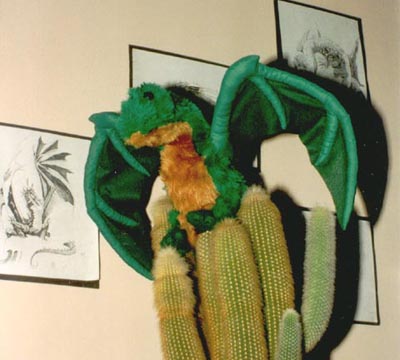 Fred was the first of the 'family', a lovely furry green and beige creation. Now I say 'was' because he has long ago flown the lair (along with a number of other cuddly offspring of various shapes) to take up residence elsewhere (and I haven't heard from him since October 1995).
He is called a 'Shoulder Dragon' because he is very partial to perching on people's shoulders (obvious enough); though he is seen here perching on an old (and now long dead) cactus, which was his favourite resting place whilst he lived in the various lairs.
He is a very calm Dragon, preferring to watch the follies of others than take part himself. Not one for action he loves to sit on a window-sill and ponder the ways of the world. He used to enjoy going out, perched on my shoulder, until the car fumes and the weather forced him to stay more and more in the lair. His one quirk was that he used to sit up all night watching the television (and he kept turning the sound up when he thought I was asleep), eventually dozing off in the small hours of the morning!
The pattern itself is not all that straight-forward as it was copied off a copy which was copied from a ready made (fully grown) example! There are no real instructions as to how the various pieces go together ... but you should be able to get some idea from the shapes, and by pinning them together before sewing you'll avoid any mistakes. Make sure to use non-stretch material for the wing supports and light felt for the wings themselves.


View the pattern
One last thing, when you come to print out the pattern DO NOT select the 'fit to page' option - the PDF has been designed to fit on both A4 and letter paper and if you select 'fit to page' then the size of the pattern will be too large.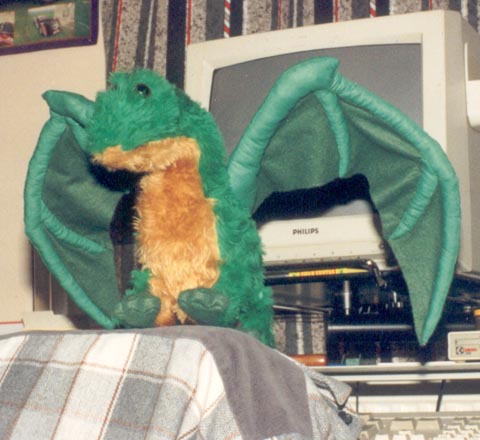 ---